Oldsmobile Hurst/Olds specs: 1979
When all others were getting 301s, 305s, or 307s, the 1979 Oldsmobile Hurst/Olds was the only '78-'87 A/G-body to get 350 cubic inches under the hood. Doing the shifting was a turbo hydramatic 350 tranmission controlled by, what else, a Hurst dual gate shifter. This was real Oldsmobile power— no Chevymobiles here. The Hurst/Olds was based on the Cutlass Calais body style for this one model year and then the nameplate would go away, or until 1983 anyway. For color choices it was available in 'white with gold' or 'black with gold' schemes.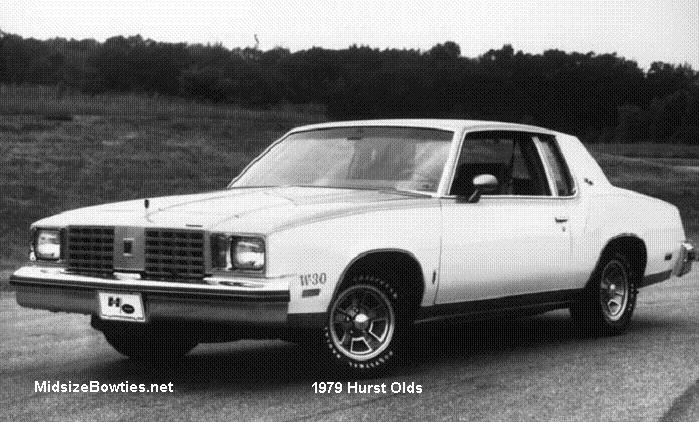 Platform: A-body
Trim Levels: base
Body Styles:
coupe
t-top coupe
Wheelbase: 108.1″
F/R Track Width: 58.5″/57.7″
Overall Length: 200.1″
Overall Width: 71.3″
Overall Height: 54.2″
Turning Circle: 37.4′
Drag Coefficient: 0.40
Shipping Weight: 3200 lbs.
Available Engines: 350 CID 4bbl V8
Available Transmissions: 3-SPEED TH350 AUTOMATIC
Axle Ratio:
2.56 (California emissions)
2.73 (49-state emissions)
Fuel Capacity: 18.1 Gallons
Fuel Economy: not published
Head Room F/R: 37.9″/38.1″
Leg Room F/R: 42.8″/35.3″
Shoulder Room F/R: 56.8″/55.6″
Hip Room F/R: 51.7″/54.9″
Tires: P205/70R14
Wheels: 14.0″ x 6.0″
Production Totals: 2499 units