Pontiac Grand Am specs: 1978-1980
The Pontiac Grand Am nameplate was resurrected for three more years starting in 1978. This time it was on the newly downsized A-body platform, which would later be renamed the G-body platform. The G/A was much lighter this time around and relatively fit & trim and squared off when compared to the original colonnade version. The bad news was in the engine compartment. The largest powerplant you'd find under-hood of an original 49-state Grand Am was 301 cubic inches, that's just 4.9 liters. In California, Chevy 305's were fitted. Like the first version, these are now getting hard to find, as they were relative sales flops and are few and far between. Most folks opted for the Grand Prix these three years.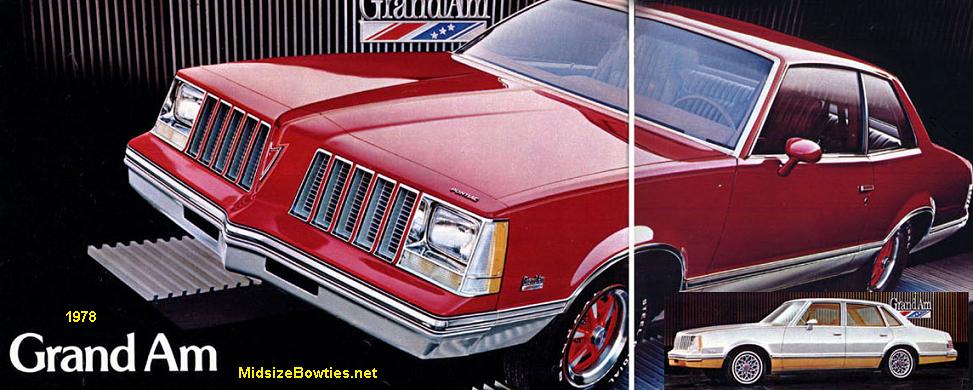 Platform: A-body
Trim Levels:
base (1978-1980)
Body Styles:
coupe (1978-1980)
sedan (1978-1979)
Wheelbase: 108.1″
F/R Track Width: 58.5″/57.8″
Overall Length: 198.6″
Overall Width: 72.4″
Overall Height: 53.5″
Turning Circle: 37.4′
Drag Coefficient: 0.40
Shipping Weight: 3200-3400 lbs.
Available Engines:
231 CID 2bbl Buick V6 (1979 only)
301 CID 2bbl V8 (1978-1979)
301 CID 4bbl V8 (1978-1980)
305 CID 2bbl Chevy V8 (1978 only, California emissions)
305 CID 4bbl Chevy V8 (1978-1980, California emissions)
Available Transmissions:
3-SPEED MANUAL (1979-1980 231 V6)
4-SPEED MANUAL (1979 231 V6 & 301 4bbl V8)
3-SPEED TH200 AUTOMATIC (1978-1980 all)
Axle Ratio:
2.14
2.29
2.58
2.73
2.93
Fuel Capacity: 17.0 Gallons
Fuel Economy: not published
Head Room F/R:
37.9″/37.8″ (coupe)
38.7″/377″ (sedan)
Leg Room F/R:
42.8″/35.1″ (coupe)
42.8″/35.0″ (sedan)
Shoulder Room F/R:
56.8″/55.6″ (coupe)
56.8″/57.1″ (sedan)
Hip Room F/R:
51.7″/54.5″ (coupe)
52.2″/55.6″ (sedan)
Tires: P205/70R14
Wheels: 14.0″ x 6.0″
Production Totals:
1978 coupe- 7767
1978 sedan- 2841
1979 coupe- 4021
1979 sedan- 1865
1980 coupe- 1647