Pontiac GTO specs: 1974
The 1974 Pontiac GTO was one of the lightest if not the lightest GTO ever made. This is just one year after what was probably the heaviest GTO made. Commonly confused for the Chevy Nova, this GTO was the performance version of the Pontiac Ventura, which included a shaker hood scoop made famous on Trans Ams, and later on the Can Am. Just 200 horsepower was under foot, but the relative light weight evened out the lack of power. These cars were just a couple tof tenths slower than the widely accepted 1964 GTO's.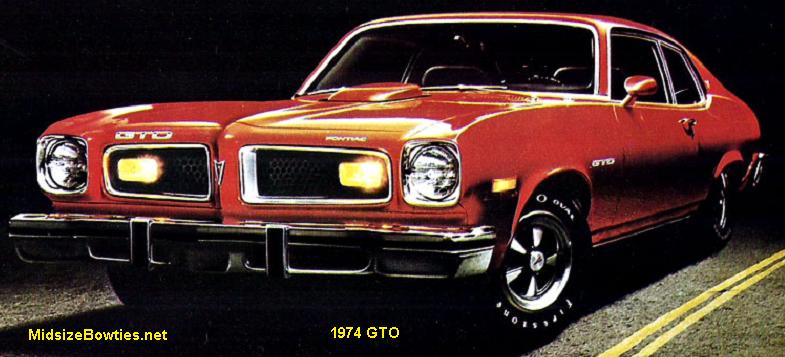 Platform: X-body
Trim Levels:
base- The GTO itself is technically an option package for the Ventura.
Custom- Performance trim on top of the Ventura Custom
Body Styles:
coupe
hatchback coupe
Wheelbase: 111.0″
F/R Track Width: 59.9″/59.6″
Overall Length: 199.4″
Overall Width: 72.5″
Overall Height: 52.6″
Turning Circle: not published
Drag Coefficient: not published
Shipping Weight: 3400 lbs.
Available Engines: 350 CID 4bbl V8
Available Transmissions:
3-SPEED MUNCIE M11 MANUAL
4-SPEED MUNCIE M20 MANUAL
3-SPEED TH350 AUTOMATIC
Axle Ratio: 3.08
Fuel Capacity: 16.0 Gallons
Fuel Economy: not published
Head Room F/R: 38.2″/36.8″
Leg Room F/R: 41.7″/33.4″
Shoulder Room F/R: 55.6″/55.3″
Hip Room F/R: 55.2″/55.0″
Tires: E78-14
Wheels: 14.0″ x 6.0″
Stabilizer Bars F/R: 0.812″/0.562″
Production Totals: 7058 units