Oldsmobile Hurst/Olds specs: 1973-1975
The Oldsmobile Hurst/Olds for 1973 and 1974 used Cutlass S fastback styling. For 1975, the Hurst/Olds was based on the Cutlass Supreme formal body style, plus received standard T-tops.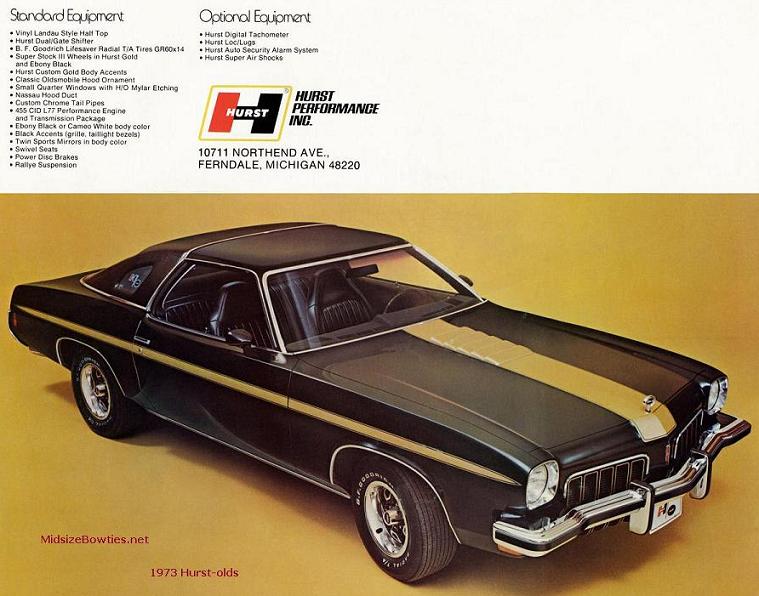 Platform: A-body
Trim Levels:
base (1973-1974)
base/W25 (1975)
W30 (1974-1975)- The W30 package adds: L76 455 CID 4bbl V8, M40 Turbo 400 automatic transmission, W26 Hurst Dual Gate shifter w/ console, 3.23 axle ratio (A/C cars) OR 3.42 ratio (non-A/C cars), N72 15″ Super Stock III Wheels, QJL H70-15 Raised Letter Firestone Tires, U21 Supplementary Engine Gauges, Y72 Heavy Duty Engine Cooling, W30 badging, Low Restriction Exhaust
W46 (1973 only)- The W46 package adds: High Output 455 V8, higher stall speed torque converter, 3.23 axle ratio, and no A/C available
Body Styles:
fastback coupe (1973-1974 only)
formal t-top coupe (1975 only)
Wheelbase: 112.0″
F/R Track Width: 61.4″/60.7″
Overall Length: 209.6″
Overall Width: 76.2″
Overall Height: 53.4″
Turning Circle: not published
Drag Coefficient: not published
Curb Weight: 3829-3964 lbs.
Available Engines:
350 CID 4bbl V8 (1974-1975)
455 CID 4bbl V8 (1973-1975)
455 CID 4bbl H.O V8 (1973 non-A/C only)
Available Transmissions:
3-SPEED TH350 AUTOMATIC (350 cars)
3-SPEED TH400 AUTOMATIC (455 cars)
Axle Ratio:
2.56 (1975)
2.73 (1973-1975)
3.08 (1973-1975)
3.23 (1973)
3.42 (1974)
Fuel Capacity: 22.0 Gallons
Fuel Economy: not published
Head Room F/R: 37.2″/36.7″
Leg Room F/R: 42.4″/32.9″
Shoulder Room F/R: 59.6″/57.9″
Hip Room F/R: 56.0″/52.9″
Tires:
G70-14 (1973-1975 non-W30/W45)
G60-14 (1973 W45)
H70-15 (1974-1975 W30)
Wheels:
14.0″ x 7.0″
15.0″ X 7.0″
Production Totals:
1973- 1097 units
1974- 1900 units
1975- 2535 units